Yoga is a practice for everyone because it meets you exactly where you are in the present moment. From beginner students to advanced yogis and everything in between, Yoga by Degrees welcomes everybody. There is a place for everyone inside our studio and it is our goal to make each and every student feel at home. We, at Yoga by Degrees, strive to create a space that provides modern comfort for an ancient practice. As both a yoga studio and a community, we honor the tradition of the practice while respecting the diversity and individual beliefs of our students.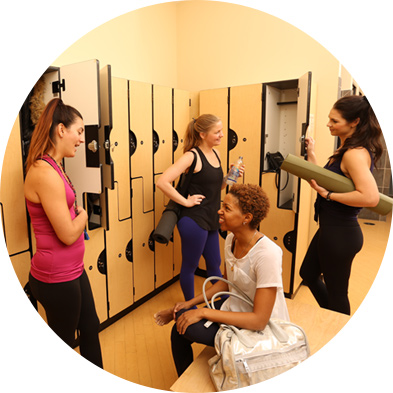 At Yoga by Degrees we aim to please. We've got the look of a top-notch spa, but the authenticity and feel of a blissful yoga haven. Here, you can satisfy both body and mind with a workout that tones and strengthens both.
About Our Studios
Yoga by Degrees believes that all the benefits of yoga can be experienced while having fun. Yoga is about being healthy, happy and comfortable. Inside of our studio you will be greeted with smiles and positive attitudes, pleasant and soothing smells, good music, and a boutique full of the latest and greatest including: yoga wardrobe, mats, towels, accessories and more. In our locker rooms, you will find ample room for your belongings in addition to clean showers and bathrooms. For our women-on-the-go, we have separate spaces with mirrors, countertops and complimentary blow dryers; and for our male students who didn't have time to shave before that early morning class, we have plenty of sinks and counter space to accommodate your needs.
Classes for Every Level
Yoga by Degrees offers a variety of hatha yoga classes to accommodate every level and interest. All of our classes are heated and the level of heat depends on the class. Check out our Class Descriptions to find the class that's right for you. We won't be surprised if you fall in love with them all!